Electricity companies ready for the storm season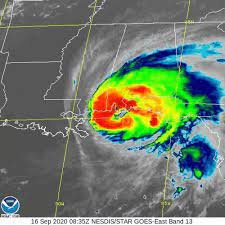 By John Underwood / [email protected]
SPANISH FORT, Alabama – Just days after the start of the 2021 hurricane season, officials from the three major power companies serving Baldwin County have said they are ready in case another major storm hits the area.
"We hope that doesn't happen, but if it does, we're ready for it," said Mark Ingram, vice president of corporate services and public relations at Baldwin EMC.
Ingram, Beth Thomas, regional affairs manager at Alabama Power, and Miles McDaniel, public affairs manager at Riviera Utilities, hosted a media appreciation lunch on Friday, June 4 at Felix's Fish Camp restaurant on the causeway in Spanish Fort.
Alabama Power, a subsidiary of the Southern Company, serves 1.5 million people statewide, including customers in the Bay Minette area of ​​Baldwin County.
At the start of this year's hurricane season on June 1, the company launched new tools to keep customers informed, especially during storms, Thomas said.
Customers can access an outage map online at outagemap.alabamapower.com and can search by county, zip code, city or town, and use the company's live weather radar feature.
Customers can also sign up for outage alerts by texting "Subscribe" to APCOUT (272688) using a mobile phone registered to their Alabama Power account or by visiting alabamapower.com/alerts.
"We encourage all of our customers to log in and register now," Thomas said.
Customers can report failures by sending "Out" by SMS to the same number or by SMS "Status" to check the status of the repair.
Customers can also visit alabamapower.com/storm to learn why their power is cut and what steps the company is taking to resume quickly and safely.
Alabama Power also offers a mobile app for Apple and Android devices.
Riviera Utilities, which serves customers in the Foley and Daphne areas of Baldwin County, and Baldwin EMC, which serves customers in the unincorporated areas of Baldwin County, have implemented mobile and online alert systems. .
"We are currently in the process of upgrading our system," Ingram said, "and we hope to have improved services in the near future."
All three companies said they were 100% operational after severe damage from Hurricanes Sally and Zeta in 2020. Ingram said Baldwin EMC is currently working to increase the efficiency of its system.
"Are we 100% in terms of online feedback from all of our customers? Yes, "he said." But are we where we need to be in terms of system efficiency? We are not, but we are working to improve the efficiency of the system and hope to launch an improved system. in a close future.
The three representatives said they have been meeting since last year's hurricane season to improve the efficiency of their systems and their response to disasters.
"It had been 16 years since a major hurricane had hit Alabama's Gulf Coast directly and we learned very quickly that we needed to make improvements in all areas of our response," Ingram said.
The three representatives also addressed concerns about cybersecurity and forecasting systems.