Four new Orange Beach police officers are sworn in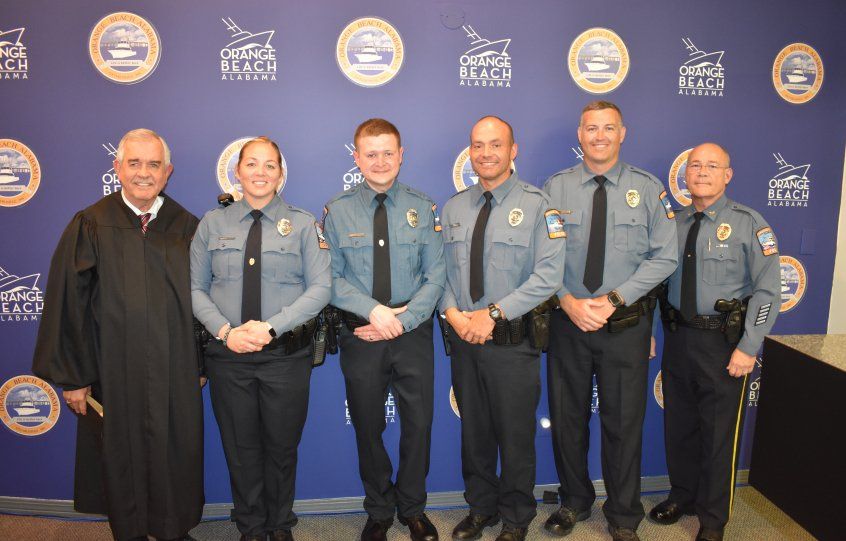 (OBA®) – Orange Beach, AL – Four new Orange Beach police officers were sworn in by City Judge Julian B. "Buddy" Brackin during the City Council meeting on Tuesday, September 21, 2021.
The new officers were introduced by Police Chief Steve Brown.
"It is an honor and a privilege for me to lead this department and to say that it is very important that we bring on board those who are going to replace me as well as the members of the command staff," said Chief Brown. "And that's the direction I'm looking, further down the road. Not here and now, but where we are in 15, 20, 25 years.
With the mindset of "Protecting Paradise" at Orange Beach while looking for new officers, Chief Brown said, "We want the right fit. we want the right mindset and we want the right heart.
He said he discovered that in Officer Kimberley Neuner, Officer David Zotz, Officer Christopher "Luke" Franklin and Officer Louis Edward Williams, Jr.
Ahead of the swearing-in ceremony with Judge Brackin, who will retire this year after 31 years of service in the city, Chief Brown noted that Brackin is sworn in to all officers who serve in the city today ' hui, including himself. "So thank you Judge for your years of service."
The information shared on each new leader by Chief Brown is as follows:
Officer Neuner is from Nashville, Illinois. She attended Belleville East High School and Southwestern Community College in Belleville, Illinois. She has seven years of previous service as a communications officer for city and county departments and during that same time she was a volunteer firefighter. She attended Southwestern Illinois Police Academy and graduated in April 2016. After graduation, she worked for the city of Nashville, Illinois. She has approximately five years of experience as a patrol officer, juvenile officer and crisis interventionist.
David Zotz attended Mascoutah Community High School in Illinois and Southwestern Community College. He served in the United States Marine Corp. between 2008 and 2016, and held the ranks of corporal and sergeant. He graduated from Springfield Illinois Police Academy in April 2016. He has five years of work experience as a patrol officer, K9 officer, field training officer and advanced rifle certification. He comes to Orange Beach PD from the Belleville, Illinois Police Department.
Officer Christopher "Luke" Franklin graduated from Tuscaloosa County High School and worked for five years as a coal miner in Abernant, Alabama. For the next 13 years he worked at the BF Goodrich factory in Tuscaloosa. He enrolled in Tuscaloosa Police Academy and graduated in May 2020. While at TPD he had obtained his certifications in Pursuit and Driving, Field Sobriety, Draeger and Tactics (SSGT) .
Chief Brown said the reason Constable Franklin left BF Goodrich was to pursue a lifelong dream of being a police officer.
Constable Louis Edward Williams Jr. graduated from Fairhope High School and went on to earn an associate's degree in criminal justice. He was a small equipment technician for four years before earning his APOST certification in 2016 and began his career with the Fairhope Police Department, the United States Coast Guard, and the US Department of Conservation and Natural Resources. 'Alabama as a ranger. He has extensive training through the Coast Guard and the State which is a plus for Orange Beach.
Chief Brown noted that while Officer Williams was at Gulf State Park, he always took the initiative to support Orange Beach officers when needed. So when Williams approached him about working part-time for the city, Chief Brown said he had already shown his commitment to Orange Beach.
After the officers were sworn in, Mayor Tony Kennon congratulated them.
"It's Orange Beach, Alabama and we have a lot of officers who want to move to the beach but very few are successful," said Mayor Kennon. "So when you see these guys standing up after they've made the cut, they're doing really well and we really appreciate them. … We will never let you down, I promise you.
City Councilor Jerry Johnson added, "We're here for you."