Jim Wyatt answers questions from Titans fans as training camp approaches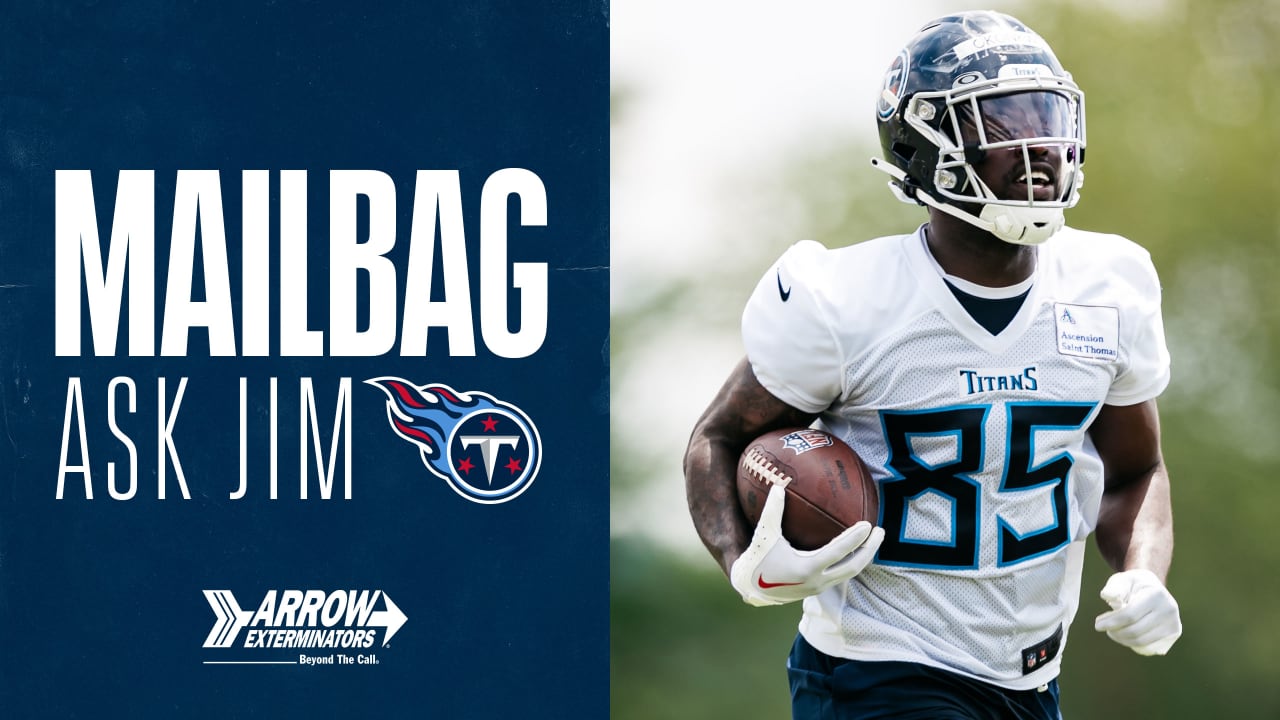 NASHVILLE- Training camp is just days away for the Tennessee Titans.
The report date is Tuesday and the first practice is scheduled for Wednesday.
We're still releasing position previews and mailbags here, and another mailbag is up.
Here is the link to submit questions: CLICK HERE.
Radley Martin from Franklin, Tennessee
Question: Hey Jim, how's Chig? I'm pretty excited to see him play, he sounds pretty good.
Jim: Hi Radley. You're referring to tight end Chig Okonkwo, Maryland's fourth-round pick, of course. Well, he got off to a good start. I liked what I saw of Chig in the OTAs, and then he ended the offseason with a bang. He caught three touchdowns on Day 1 of the team's minicamp and added another score on Day 2. I can't wait to see how he's doing when camp starts on Wednesday.
Major Hudspeth of Orange Beach, Alabama
Question: Hi Jim, I'm major and I'm 12 years old! I'm a huge Titans fan! I was wondering if Malik would play in pre-season? Also, I want to know if our passing attack will be changed anyway because AJ Brown and Robert Woods are completely different players with different bodies, advantages and disadvantages? One more thing, should we be worried about the Colts? Lots of hype is speculating around them and I wanted to hear your thoughts if we can have another year with a solid chance of winning our division and securing that guaranteed playoff spot. I know that's a lot of questions, but I just need to feel a little more comfortable for our upcoming season.
Jim: Good to hear from you Major. I expect to see a lot of Malik in the pre-season. In fact, I think we'll see Willis and Logan Woodside get the bulk of the work in preseason games since the starters won't be playing much. It makes no sense to put Ryan Tannehill a lot with reinforcements. Offense might look a little different, at least the way the team chooses to attack, not only because of the change in personnel, but also because of the addition of new passing game coordinator Tim Kelly. But we'll have to wait for more clues. As for the Colts, I don't know if "worried" is the right word. But they are definitely a formidable opponent, and I expect them to be better this year.
Luke Atherton of Pennsylvania
Question: I was looking around to see if there was any word or anything about any uniform rule changes for next season. The Texans, Saints, Bengals, and Falcons have all made announcements for throwbacks, replacements, and more. Are there any more words on whether or not the Titans will do anything this season?? Thank you for your time and I hope you enjoy your week!
Jim: Hi Luke. I got a ton of questions about this last week. Nothing has changed here. The plan is for the Titans to wear Oilers Luv Ya Blue throwbacks — light blue jerseys, white knickers, white helmet with a red mask — in 2023. That won't happen until 2023.
David Jenkins of Ashland City, Tennessee
Question: Hi Jim! I'm ready! I know there are a lot of questions about the Titans offensive line and receivers, but even with all those questions, I don't see how we're not in a better place now. Last year Jones was a bust, Brown didn't gain 1,000 yards and there was virtually no TE production. Right now we have three new players in Hooper, Burks and Woods who I'm confident will far surpass these old players. If we add an extra WR, it will only help more. My question is what are the chances of Dupree or Weaver receiving suspensions for the off-season incidents they had?
Jim: Hi David. It's an optimistic take for sure, but I agree the team has talent. As for potential suspensions, I'm not going to speculate on that.
Braulio Cardenas Cantu de Saltillo, Mexico
Question: Hi Jim!! Greetings from Mexico!!
I hope you and yours are doing well. Thank you for keeping us informed of our dear Titans. On this occasion, I do not write any questions because it is a time when you have to wait for all the planning and preparation to give the expected fruits. But I have an appreciation that I want to share and know what you think. Our team likes tough matches, usually our best performances are when we face elite teams, when it's not like that the results can actually be really bad. I think we are more comfortable when we are not favourites. What do you think..
Jim: Hello Braulio. Well, that's an interesting observation. I think you could find similar results for most teams. There's no doubt the Titans won a few games as underdogs a year ago, and the team also laid a few eggs (worst losses to the Jets and Texans). I know everyone is definitely looking for more consistency in 2022.
David O'Neal from Portland, Tennessee
Question: Hey Jim, Will there be open practice at Nissan Stadium this month? or will it be one of the days of the first week of August!
Jim: Hi David. For now, I don't think so. The stadium is used for so many events in the coming weeks, and it's just not available.
Jose Herrer Jr of Agua Dulce, Texas
Question: Hi Jim! So I just saw the Titans post the two days of training camp available to fans and unfortunately my wife and I were leaving the day before. I had already booked us to go to Nashville July 27-29 and try our luck at seeing a practice. My question is is there a way between those days where we could get some autographs after a practice if we wait around the practice center? ?
Jim: I hate being a party goer, Jose, but I don't think that's going to be a possibility. Sorry.
Jon Kerlikowske from Franklin, Tennessee
Question: What's the update on the plans for the new stadium from the only real source for all things Titan? Retractable roof? Planned opening year? When are they going to dig the ground? Thanks Jim!
Jim: Hi Jon. I think we will have more clarity here in the coming weeks. From what I've heard so far, it sounds like a (non-retractable) dome with an opening year of 2026 if things come together.
Roy Gulley from Pulaski, TN
Question: With Robert Woods obviously being our #1 WR this year and with the loss of Brown even though we have a good depth of young guys in our WR group. Do you think adding another veteran is something the Titans could do?
Jim: Hi Roy. I've said here several times that I think it's a possibility, but it might take a little longer. I suspect GM and HC want to see what they have at the station first. If you bring a guy in early, he could take reps away from the younger guys competing.
Redd scooter from Memphis, Tennessee
Question: Do you think the titans will add another G,&WR to the roster before training camp. I'm very intrigued by Ereck Flowers & Will Fuller. I think Flowers can be a solid guard in our offense and Fuller can add the vertical threat we desperately need. Thank you Jim you man PS love when you say 🗣SAAAAAAAACK
Jim: Stay tuned here, Scooter. I don't rule anything out. But let me correct you on this: it's Mike Keith saying 🗣SAAAAAAAAAAAACK!
Alan Ray from College Grove, Tennessee
Question: Hi Jim. Well, shit. I was looking forward to the next season of Titan, but according to some reviewers, there is no reason to because it's already over. And so soon too. Like before training camp, even. Just go online to find out. These people are experts, Jim. They know the Titans much better than we do. They say there are too many problems with the team for them to be in contention this year. Too many problems. Too much uncertainty. Seriously, I don't know why the Titans would even bother to dress up. Anyway, here are all the real article titles I saw online the other day and a quote.
Titans Pass-Catchers Ranked Last Dead In The Split In 2021
"The Colts will win the division thanks to 2021 rushing champion Jonathan Taylor and a strong defense."
Titans' Taylor Lewan ranked last in PFN's OT rankings
Mike Vrabel tied for 8th in Top 10 coaches who could be fired in 2022
The Tennessee Titans are on the brink
"Malik Willis will be QB Starter in Week 1"
Derrick Henry is in big trouble
Is Treylon Burkes a bust?
Will Robert Woods be ready for training camp?
And apparently, or should I say apparel, we're not hustling the fashion world either.
Tennessee Titans road uniforms ranked worst in NFL
He did it for me, Jim. Losing a few tough games in the playoffs, okay, it happens. But I can't support a team that has no fashion sense. Anyway, joking aside, like every year, the Titans are going to have to go out there and earn it. And I really believe they will. And I think we could even be better this year. Offensively, a full complement of starving WRs, to me, is better than 2 guys available half the time and rarely at the same time and only for a short time most of the time. Heck, the first receiver to score 2 touchdowns doubles Julio's production for his entire year here and I believe AJ was in the 800+ receiving yard range for '21. I think The Collective will easily overproduce. Maybe Treylon on his own. Am I dreaming, Jim?
Jim: Glad to see you've done your research, Alan.
Have a great weekend everyone!