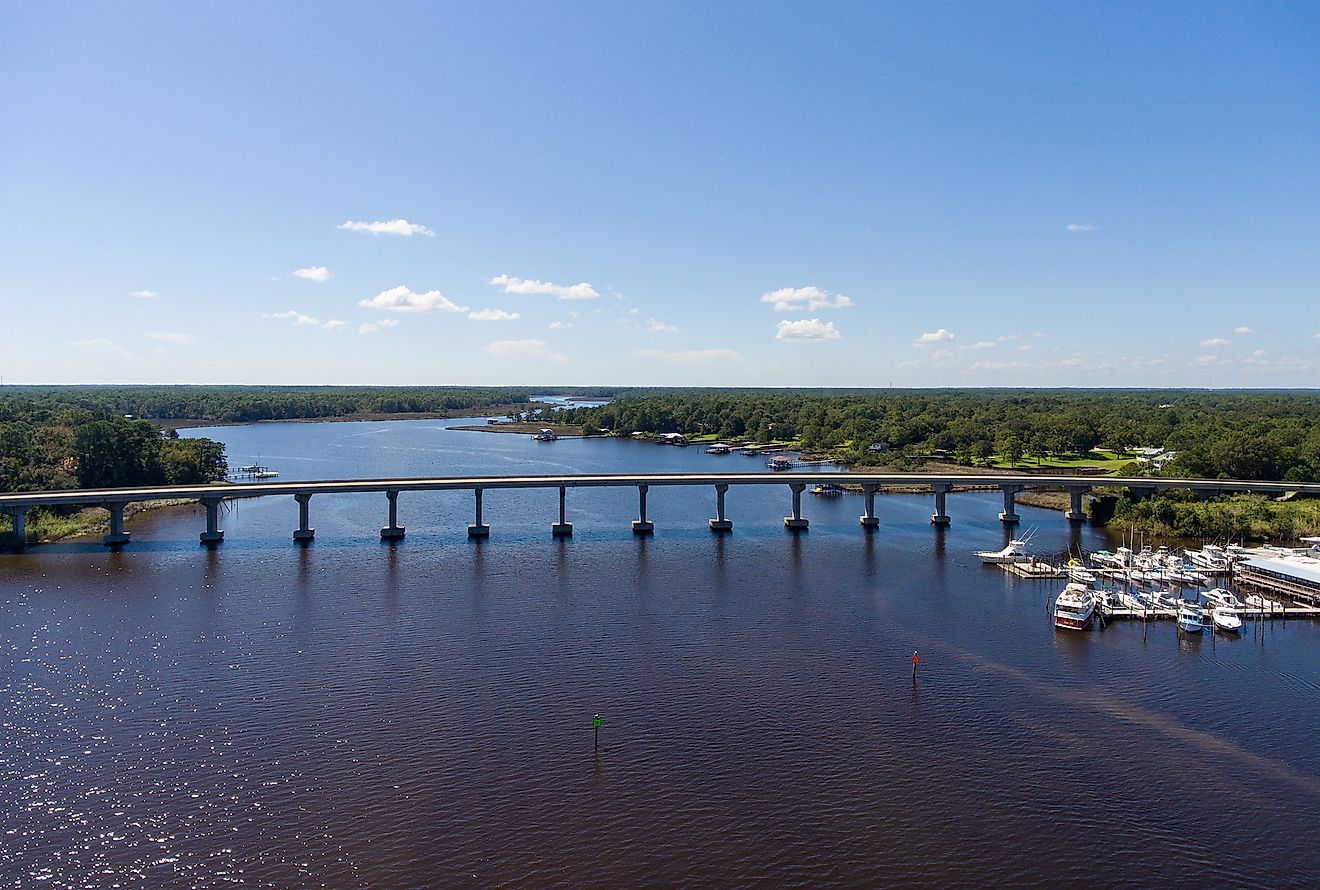 The Mississippi Strait is a 145 km arm of the Gulf of Mexico that stretches from the city of Waveland in the US state of Mississippi to the Dauphin Island Bridge in the US state of Alabama. The Mississippi Strait thus extends along the entire Gulf Coast of the United States. The Dauphin Island Bridge, in turn, separates the Mississippi Strait from Mobile Bay.
About the Mississippi Sound
The Mississippi Strait has an area of ​​2,128.87 km2 and its width varies between 11 and 24 km. Significant parts of this elongated estuarine basin reach a maximum depth of about 6 m. The Mississippi Strait is part of the Intracoastal Waterway and receives an influx of fresh water via two major rivers: the 715 km long Pearl River and the 130 km long Pascagoula River; many minor rivers: Biloxi, Escatawpa, Jourdan, Tchoutacabouffa and Wolf rivers; and several bayous including Turkey, David and Bernard bayous. The Pascagoula River discharges about 378.35 cubic meters of water per second and the Pearl River drains about 327.72 cubic meters of water per second into the Mississippi Strait.
The Mississippi Strait is separated from the Gulf of Mexico on its southern side by a chain of narrow islands and sandbars. These islands and sandbars are part of the Mississippi-Alabama barrier islands of which Dauphin Island, Cat Island, Horn Island, East Ship Island, West Ship Island and Petit Bois Island are the main islands. Petit Bois Island, Ship Islands and Horn Island are also part of the Gulf Islands National Coastline. The Mississippi Strait exchanges its waters with the Gulf of Mexico through several passes located between these barrier islands.
Many coastal bays are contained within the Mississippi Strait, including Biloxi Bay, St. Louis Bay, Grand Bay, and Pascagoula Bay. Two shipping channels cross the Mississippi Strait. These include the Gulfport Channel with a design depth of 9.1m and the Pascagoula Channel with a design depth of 11.6m. A portion of the Gulf Intracoastal Waterway also crosses the strait and has a draft depth of 4m. Gulfport and Pascagoula are two deep water ports located along the Mississippi Sound. Currently, traditional shellfish harvesting in the waters of the Mississippi Strait has been reduced due to a decline in shellfish quality and numbers caused by pollution, floods, hurricanes, and droughts. Federal and state authorities have initiated various shellfish restoration and water quality monitoring programs.