Surf Fishing on the Alabama Coast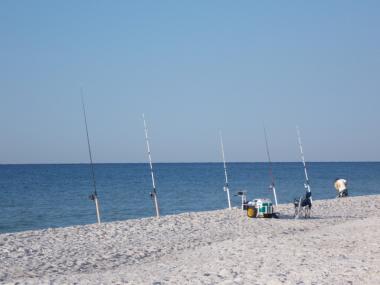 Currently, pompano, whiting and flounder hang out in the usual spots along the sandbar, usually the first closest to the breaking waves. These breakers stir up the bottom, and sand fleas, ghost shrimps and other invertebrates are easy prey for fish.
Orange Beach and Gulf Shores have several tackle shops that stock the tools you'll need to pick up sand fleas (mole crabs) and a pump to extract ghost shrimp from the waves. Ghost Shrimp Extruders are made from PVC pipes that suck shellfish out of their holes in the sand. If you find the right spots, it won't take long with the extruder to get enough Ghost Shrimp to last the fishing trip. If you have trouble catching your own bait, head to the tackle shops and grab frozen sand fleas if they have them or fresh dead shrimp. Pinch a little shrimp, peel it and put it on the hook. Almost everyone surf fishing these days adds a little square of Fish Bites for added appeal.
Most anglers use a double hook rig with the lightest pyramid weight allowed, depending on surf and current conditions. If you can get by with a one ounce shot, do so as long as the shot stays still. Increase lead size if it starts rolling in waves. A 1/0 or #1 hook size is usually best for the pompano. You can use a bait hook or a circle hook. Whiting rarely exceeds two pounds, so you use lighter gear if the whiting bite is on.
Scouting is important for surf fishing. Research the water and surf conditions the fish prefer. Clearer water makes it easier for fish to spot a meal in the waves. Also look for darker water, which indicates more depth, and look for irregular sandbar features where predatory fish like to ambush their prey.