The Citadel Fights No. 1 Chattanooga at SoCon Tournament | Citadel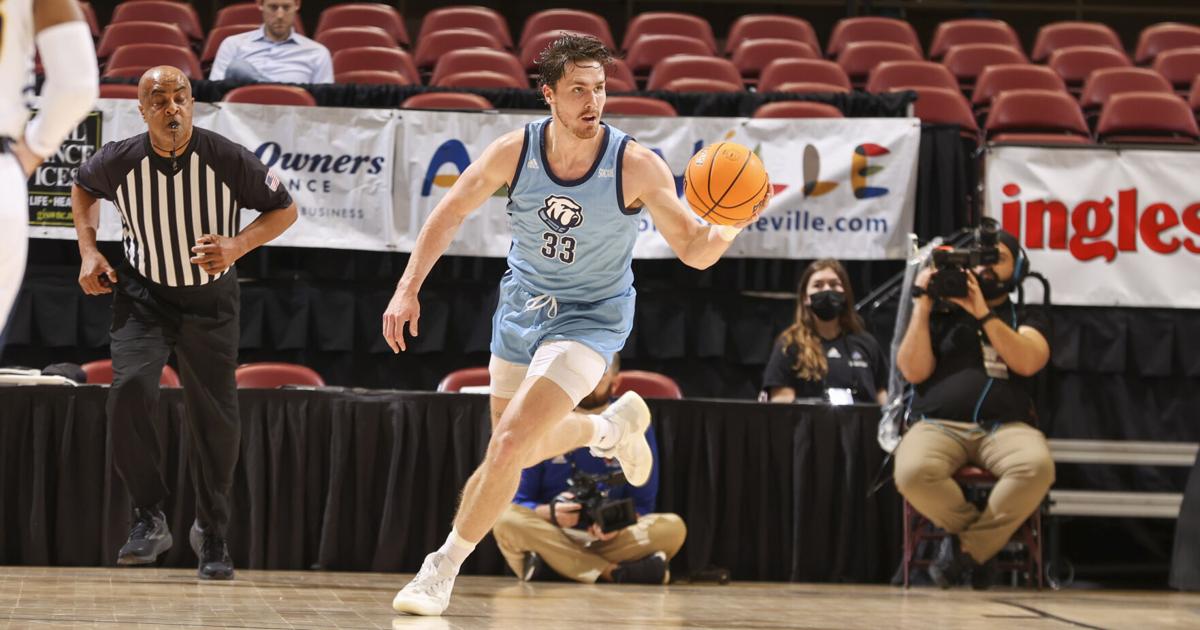 55 seconds from the end, Hayden Brown committed a fault.
As he made his way to the Citadel bench, Bulldog fans in the stands at Harrah's Cherokee Center rose to give him a standing ovation. It was perhaps the final act of one of the great careers in Citadel basketball history.
Brown and the ninth-seeded Bulldogs battled it out in their final game of the season, pushing No. 1 Chattanooga in the dying minutes in a 71-66 Southern Conference Tournament quarterfinal loss at Asheville on March 5.
Facing a quick turnaround after Friday night's 84-76 overtime win over East Tennessee State, The Citadel cut a 15-point gap against the Mocs to just 54-50 with just 5:45 left. But a seasoned Chattanooga team responded with a 7-0 run and salted the game from the free throw line to improve to 26-7 on the season.
"We knew going up against them would be very tough, but I couldn't be more proud of our guys for the fight we showed," Citadel coach Duggar Baucom said. "I'm surrounded by amazing kids, quality kids. They do amazing things on and off the pitch.
The Mocs will face No. 4 seed Wofford, a 68-66 winner over No. 5 VMI, in the semi-finals on March 6.
"They have a good team," coach Lamont Paris said of La Citadelle. "They've got fighters, they're relentless, they never stop. They've got a lot of guys who can make shots and plays. We knew they were going to keep coming at us. They ran away. Our guys are older, veteran club, did a good job without panicking."
Brown's future — the 6-5 grad student still has a year of eligibility left after finishing the season with 17 points and six rebounds against the Mocs — is just a question in the face of a Citadel program that has reached a crucial moment.
"Hayden is an unknown, only time will tell," Baucom said of Brown, one of only three players in Citadel history to hit over 1,300 points and 700 rebounds. "He gave his heart and soul to everyone, so this decision is entirely up to him and he won't be pushed into anything.
Baucom's future at the Citadel is also an issue that needs to be resolved. A one-year contract he signed last year required him to automatically receive a two-year extension if the Bulldogs posted an overall or SoCon record this season. They didn't, finishing 13-18 overall and 6-12 in the SoCon regular season.
The Citadel could still decide to keep Baucom, who is 76-136 in seven seasons in military school. That includes a 6-24 record in 2019-20 when Brown suffered a thigh injury and played just six games.
This season, the Bulldogs ended an 0-46 streak against ACC teams with a season-opening win over Pitt; won SoCon tournament games in consecutive years for the third time since 1927 (and second time under Baucom); won at rival VMI for the first time since 2002; broke a 16-game skid against UNC Greensboro; and have won their most road games since 2009-10 (five).
The Citadel's 26 wins over the past two seasons are their most consecutive years since Ed Conroy's teams won 36 games from 2008 to 2010.
"Coach Baucom has changed my life," said point guard Tyler Moffe, who scored 13 points in his last college game after coming to the Citadel as a grad transfer two years ago. nobody in the country wanted me, and he gave me a chance.
"So, like I said, the last two years have been life changing for me and I think Citadel basketball is only going to keep getting better. …Because of the guys they have in the locker room and the way they coach, the culture has completely changed."
The Citadel is expected to fire SoCon Rookie of the Year Jason Roche and junior forward Stephen Clark, who had 14 points and five rebounds against Chattaooga and led the SoCon in blocked shots this season. Guards Rudy Fitzgibbons and Brent Davis are among the regulars who could return, along with Brown.
The Bulldogs also signed newcomers Tony Carpio, a 6-8 forward from Suwanee, Georgia, and Colby McAllister, a 6-4 guard from Spanish Fort, Alabama.
Follow on Twitter @Jeff_fromthePC