What does it take to protect Heaven?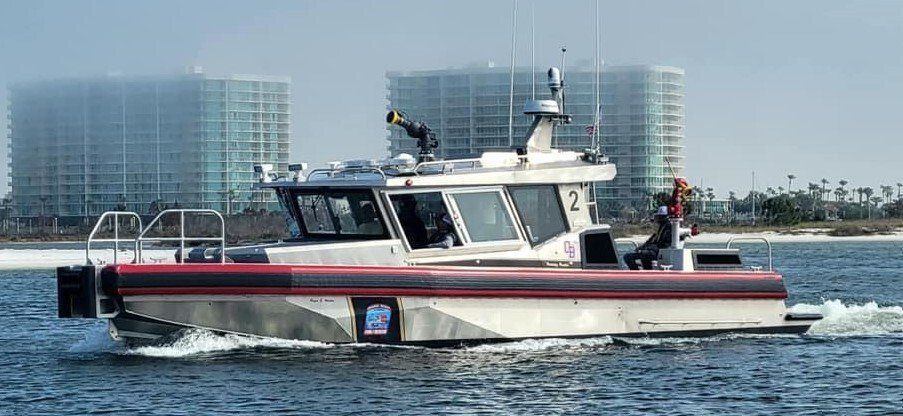 (OBA®) – Orange Beach, AL – How many police cars do Gulf Shores Police have? How many fire trucks does Orange Beach have? Does Fort Morgan have lifeguards? In this article, we'll answer these and other questions about what it takes to protect Heaven.
Orange Beach Police Chief Steve Brown said a major challenge was recruiting staff for a town of about 7,000 but seeing the population increase to over 100,000 during the tourist season .
"The department is budgeted for 58 full-time sworn people," Brown said. "Sometimes that doesn't seem like enough when our population reaches the numbers it can reach, and that's most often the case on a summer day or a busy weekend. For many years there was a "slow time" of the year. Over the past 8-10 years, we've seen that "slow" window shrink more and more into activity most of the year that we haven't seen. When we reach full rental unit capacity, we expect to be busy. "
Gulf Shores Police Chief Ed Delmore said the industry standard for officers is 2.5 per 1,000 residents and his department sees the same staffing constraints as Orange Beach. He said Gulf Shores has its full officer assignment at 53 and plans to ask city council to add more in 2022.

"In season it's policing and protecting the community 'on deck," Delmore said. "There's very little time to train. We use the slower times to catch up on training Gulf Shores, even out of season, is busier than ever from our perspective.
Gulf Shores Fire Chief Mark Sealy said fire department figures indicated they would need 1.52 firefighters per 15,000 residents.

"Given that the full-time population of Gulf Shores is approximately 15,000, it is assumed that our 48 firefighters are more than enough," Sealy said. "The fact that there are varying visitor populations of up to 100,000, our number of firefighters may be lower than the recommended allocation. Finding a balance is the constant challenge.
Lt. Anthony Lowery of the Baldwin County Sheriff's Office said the county has added a Coastal Law Enforcement Unit which primarily guards two deputies at Fort Morgan based on activity elsewhere in the county. Some have completed lifeguard training with the Gulf Shores Fire Department, but are not certified and are still assigned normal assistant duties.
"Really, the mission for us at Fort Morgan is no different than the mission at Lillian or elsewhere," Lowery said.
During the summer, school resource officers are also posted to Fort Morgan and have conducted beach patrols in Polaris vehicles.
"It actually reduced a lot of the crime we had," Lowery said. "Typically over there you're going to have a lot of broken-in vehicles and a few break-ins, but with the MPs working there, that's eliminated a lot of that. They always react to disturbances on the beach and whatever a normal MP would do. "
ORANGE BEACH POLICE NUMBERS
54 officers including 4 undergoing background investigation, after which there will be 51 male and 7 female sworn personnel
Eight are assigned to investigations, two assigned to support services, three assigned to intelligence, six to the marine division, three SROs, two part-time SROs
Six support service technicians, two of whom are part-time.



The OBPD has about 55 automobiles and three patrol boats (a new one is expected later this fall) and a jet ski
ORANGE BEACH FD NUMBERS
60 firefighters, 59 men, one woman as well as seven administrators, two civilian office workers.
Two full-time, two part-time and 24 seasonal lifeguards
There are three frontline engine companies, one frontline truck, three standby engines, and one standby truck.
Three ambulances, two from the front line and one from reserve
One battalion commander vehicle, two beach trucks, two brush trucks, two fire boats, four beach UTVs, three track / special event UTVs with patient beds, two brush UTVs, three jet skis
GULF SHORES POLICE NUMBERS
53 sworn officers, including two women, the patrol division has 38 sworn officers, the criminal investigation division has eight sworn officers
Nine correctional officers, seven dispatchers with three vacant positions, one records clerk, three civilian community service officers, one administrative supervisor
48 marked and unmarked units, boat, jet ski, prisoner transport van, crime scene equipment van, command post vehicle
GULF SHORES FD NUMBERS
48 firefighters, two women, three full-time rescuers, 30 part-time
Three full-time lifeguards and 30 seasonal workers
Four fire engines and a ladder truck at four stations, a reserve pumper, a reserve ladder truck, a reserve ambulance, two brush trucks, a heavy / technical rescue vehicle, an airport firefighting vehicle , several UTVs
Four fire engines and a ladder truck in four stations, reserve pumper, reserve